DARING BILINGUAL PRODUCTION OF MOLINÈRE'S TARTUFFE OPENS AT THE THEATRE ROYAL HAYMARKET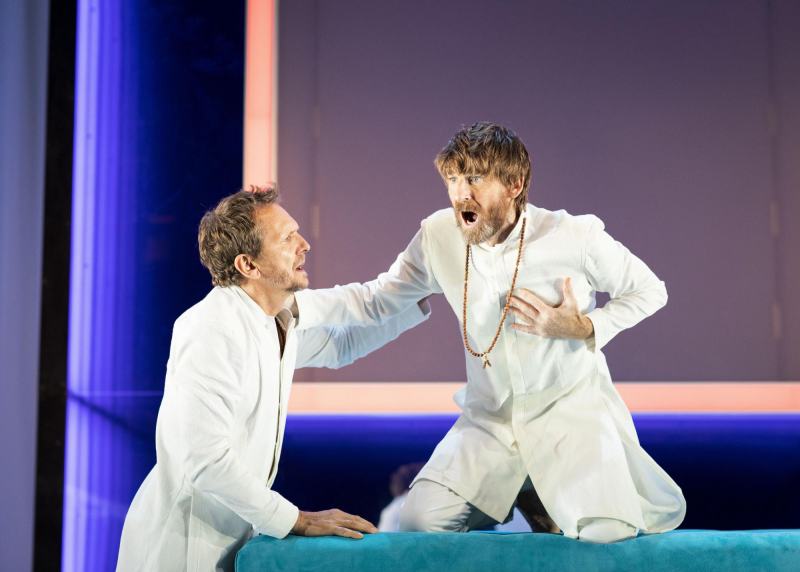 Last night saw the opening of Tartuffe at the Theatre Royal Haymarket. Directed by United Agents' Gérald Garutti, the Molière classic appears here in a new bilingual adaption. Performed in both English and French (it has surtitles for both), it is the first dual-language production to appear on London's West End. "A talented cast negotiate the shifting between languages with flair" (The Independent).
Banned from public performance after its presentation to Louis XIV in 1664, in fact the King personally enjoyed the comedy. The prohibition of the play was instead due to influential church leaders who objected to Moliere's searing satire on faith and religious hypocrisy.
In this "surprisingly funny and disarmingly relevant modernisation," (Broadway World) Tartuffe the titular religious charlatan is reinterpreted as a radical American evangelist. The Hollywood setting also allows the allusions to Louis XIV to be replaced with an "undeniably fun" (Time Out) litany of Donald Trump references.
Overall "Tartuffe has delicious moments of tension, wicked satirical humour, and an impressive blend of some wonderful talent from England and France" (Broadway World).
You can buy your tickets here: http://www.trh.co.uk/whatson/tartuffe/
Back to News