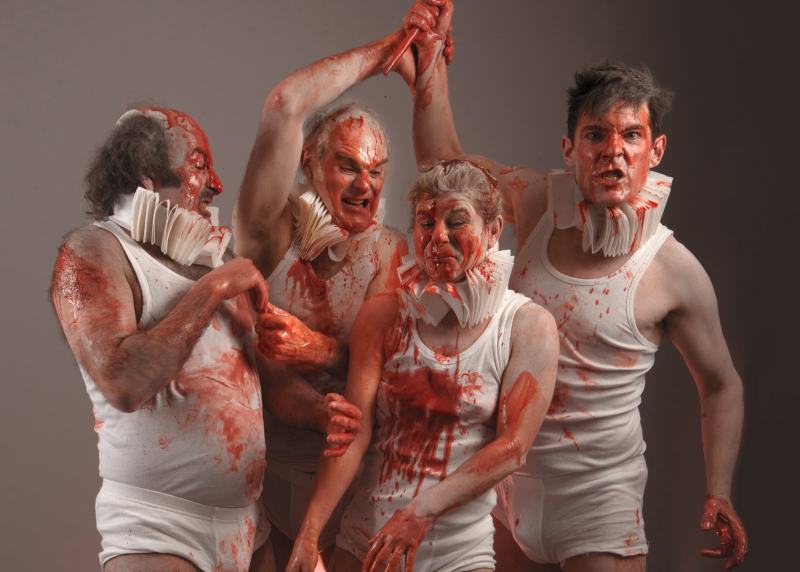 There are 74 onstage deaths in the works of William Shakespeare - 75 if you count the black ill-favoured fly killed in Titus Andronicus.​
In this year, the 400th anniversary of Shakespeare's death, it is suitably apt to celebrate the gloriously gruesome and varied deaths that appear in his many works. 
Award winning theatre maker Tim Crouch teams up with the legendary Spymonkey - "four of the greatest clowns working in Britain" (Time Out). They bring you tonnes of blood and gore, all with a handy counter to help you keep track!
Playing at the Brighton Festival before embarking on a UK tour until the end of the year. 
For a full list of dates and venues and how to buy tickets click here!
★★★★ "Brilliantly ridiculous – inspired pairing of Spymonkey and Tim Crouch"The Stage
★★★★ "The Four Horsemen of the Ridiculypse – Fearless physicality and pin-sharp comic timing" Libby Purves TheatreCat.com
★★★★ "Daft, ingenious and ultimately deeply thoughtful" Financial Times
★★★★★ "Completely and utterly joyous" The Argus
Back to News