Craig Viveiros
Writer/Director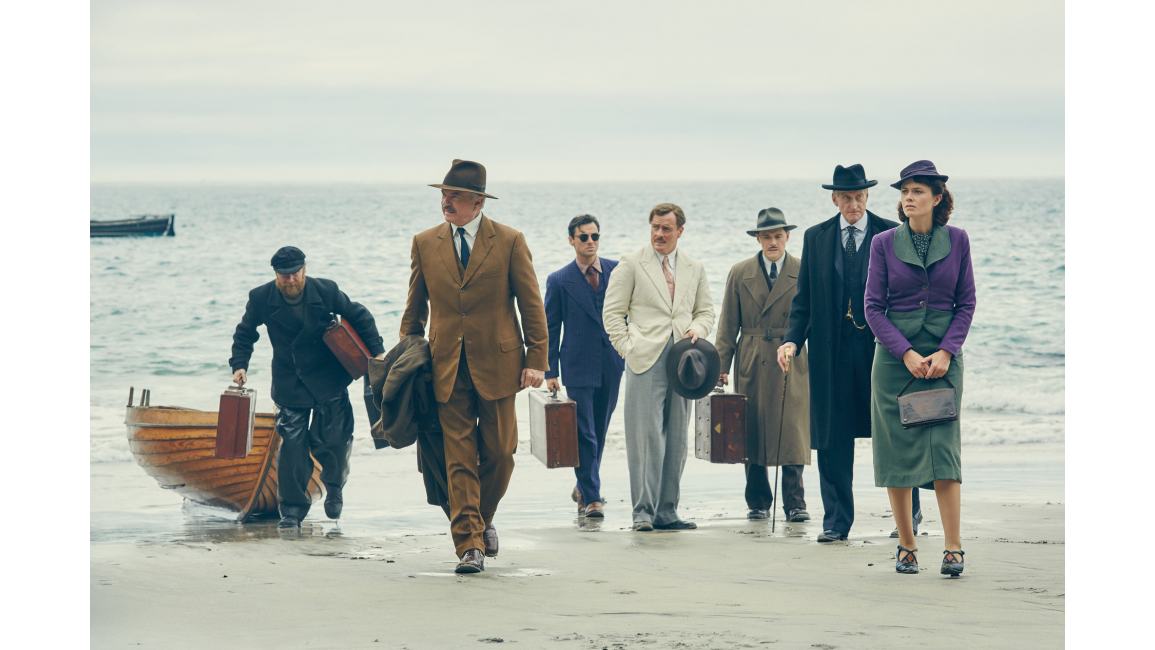 Film, TV & Theatre
Assistant: Nancy Napper Canter
Craig has directed three feature films, as well as numerous award-winning short films and commercials. He was named a Broadcast 'Hot Shot' in 2010 and has worked all over the world including France, Italy, Morocco, Portugal, South Africa, Spain, UK and the US.
Craig started his professional career at the age of 19 working as a camera operator on at least ten features. Since then, his prolific output has included the Channel 4 short, STEREOSTEP, which screened at more than 50 festivals worldwide and his most recent feature, THE LIABILITY, which stars Tim Roth, Peter Mullan and Jack O'Connell.
US Agents: Rich Cook and Dan Aloni at WME.
US Lawyer: Cuffe Owens at Felker, Toczek, Suddleson
AND THEN THERE WERE NONE
"This outrageously talented cast is matched by mesmerising production values and an attention to detail that beggars belief. It must surely be the best Christie adaptation made yet for television." The Times Saturday Review, David Chater
"Bravo to the director Craig Viveiros, and to the whole production, for capturing the hedonism as well as the horror." The Times, Alex Hardy
"This three-part adaptation of Agatha Christie's masterpiece is one of the darkest shows airing this Christmas, but also the most brilliant." TV Times
"A gripping confection… Craig Viveiros invested the island with a genuine sense of threat." Sunday Telegraph, Jasper Rees
"Astoundingly and almost absurdly entertaining… this drama knows exactly what it wants to accomplish and the kind of crisp yet evocative tone it wants to establish; it's rare to feel so quickly that one is in sure, confident hands."  Maureen Ryan, Variety
"Writer Sarah Phelps and director Craig Viveiros understand intuitively that classic mysteries linger in the memory — and in the popular imagination — because they are not just about the who did what to whom, but why." Maureen Ryan, Variety
"We, the viewers, are part of a devilish pact, gleefully delighting in Christie's pointed brutality." Keith Uhlich, Hollywood Reporter
In Development
Production
Company
Notes

THE BALLAD OF BONNIE AND CLYDE

2015

Gold Circle Films

Feature film.
Writer: Luke Paradise
Producers: Paul Brooks and Brad Kessell

2015

20th Century Fox

Feature Film.
Thriller.
Writer: Olivia Milch.
Ellen Page attached to star.
Television
Production
Company
Notes

2016

BBC 1

Director
3 x 60' drama based on the real-life story of serial killer John Christie
Writers: Ed Whitmore and Tracey Malone
Producer: Sharon Bloom
Exec: Phillippa Giles

2015

Mammoth/ BBC 1

Director.
3 x 60' mini-series.
Based on Agatha Christie's best-selling 1939 crime thriller.
Writer: Sarah Phelps
Producer: Abi Bach
Starring Douglas Booth, Charles Dance, Anna Maxwell Martin, Sam Neill and Miranda Richardson

2015

Temple Street Productions

Director
2 Episodes
Canadian/Hungarian Spy Thriller Series
Shot in Budapest, Hungary

SILENT WITNESS "A Special Relationship"

2014

BBC 1

Director.
Producer: Sharon Bloom.
Exec Producer: Phillippa Giles.
Writer: Graham Mitchell.
With Leila Mimmack, Jack Roth, Emilia Fox. Richard Lintern and Richard Rankin.

SILENT WITNESS "In a Lonely Place"

2013

BBC 1

Director.
Producer: Sharon Bloom.
Executive Producer: Phillippa Giles.
Writer: Ed Whitmore
Starring: Martin Compston, Gary Lewis, Emilia Fox

2013

Mammoth/ITV

Director.
2-hour film.
Producer: Dan McCulloch
Exec Producer: Damien Timmer
Written by Russell Lewis.
With Shaun Evans, Roger Allam, Anton Lesser, Craig Parkinson.
Commercials
| Production | Company | Notes |
| --- | --- | --- |
| | Saatchi & Saatchi | |
| | Saatchi & Saatchi | |
| RENAULT "The Mégane Experiment" | Publicis | |
| | Motion Picture House | |
| | London Film & Media / Motion Pictures House | |
Film
Production
Company
Notes

2012

Corona Pictures

Director
Thriller
Produced by Richard Johns and Rupert Jermyn
With Tim Roth, Talulah Riley, Peter Mullan and Jack O'Connell
* Screened at Brussels International Fantastic Film Festival, 2013

2011

Finger of Suspicion Films

Director
Mystery Drama
Produced by Glen Murphy.
Filmed in Italy.
With Ray Winstone, Serena Iansiti, Giovanni Collemberrti and Glen Murphy
* Winner International Feature, New York Hell's Kitchen Film Festival
* Winner Best Film, Abruzzo International Film Festival
* Screened at Lucerne International Film Festival

2011

London Film & Media/Motion Picture House

Writer and Director.
Producers: Rupert Bryan, James Friend, Craig Viveiros
With John Lynch, Martin Compston, Craig Parkinson, David Schofield, Art Malik.
* New York International Independent Film – Winner, Best Director
* Torino International Film Festival Award, Best Actor (Martin Compston)
* Screened at Edinburgh International Film Festival
* Screened at Mumbai International Film Festival
Short Films
Production
Company
Notes

London Film & Media

Writer and Director
Thriller
Produced by Rupert Bryan, Craig Viveiros
With Jason Flemyng, MyAnna Buring, Art Malik, Craig Fairbrass, Christopher Hatherall

National Theatre

Writer and Director
Short drama highlighting
the issues faced by London's homeless
community.
With Christopher Hatherall

Writer and Director
Modern Hogarth-esque satirical view of today's youth.
Produced by Chloe Jenden
With Impact Dance & Tru Street Dance Groups
Documentaries
Production
Company
Notes

National Theatre / Speak-It Productions

Director
Documentary on the decline of industry across Britain
Produced by Marc Francis, Nick Francis