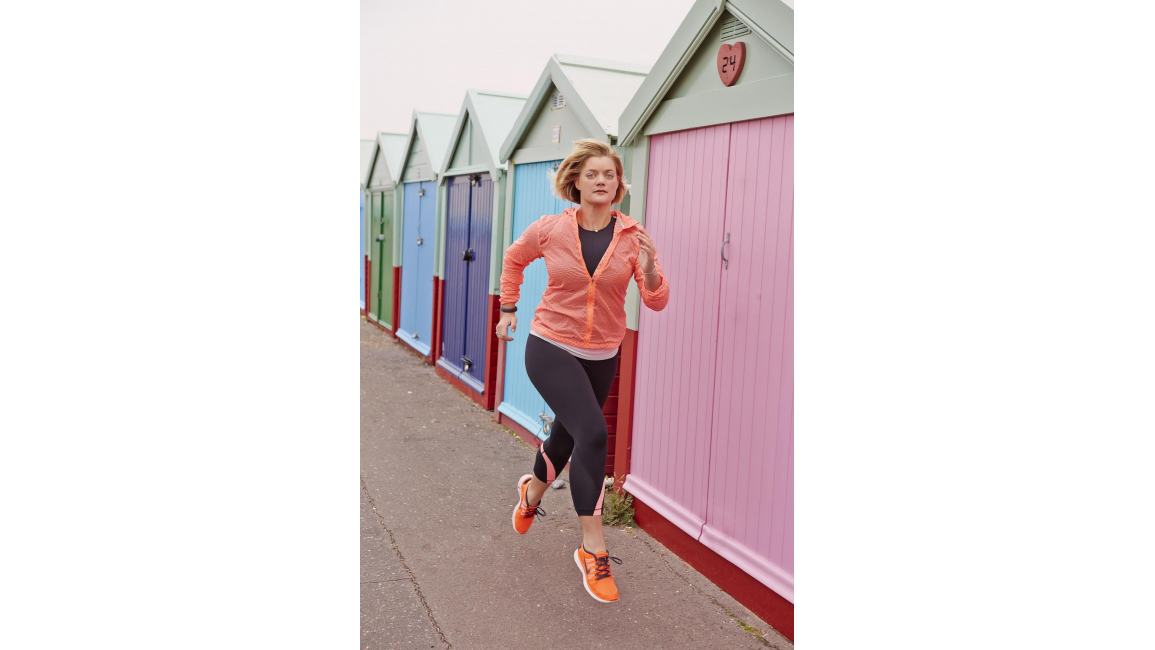 Alexandra Heminsley worked in publishing for six years before becoming a freelance journalist, broadcaster and author.  She is author of the bestselling memoir Running Like a Girl, which has now been published in thirteen countries, most recently the Netherlands where she completed a three-day press tour including a Vogue interview, winning a 5k with a team from Arbeiderspers and a 4-page spread in the main weekend paper Der Volkskrant.
Since Running Like a Girl's publication she has continued to work on ghostwriting projects for major publishers including HarperCollins and Hachette and TV companies such as Lime and Monkey Kingdom. She has also worked with brands such as Nike, hush.com and Holland & Barrett. 
After 8 years as the books editor at Elle, she is now the books editor at thedebrief.co.uk (Bauer Media's biggest women's launch in a decade, and recent winner of the PPA launch of the year), the reviews app 60secondreviews and BBC Radio 2's Claudia Winkleman Arts Show. She writes the fitness coverage for the-pool.com, the site recently launched by Lauren Laverne and ex-Red magazine editor Sam Baker, and continues to write and review for several national papers and magazines.
She has spoken at several festivals including Latitude and Greenwich, will be travelling to Mexico with the British Council later this year, and was a judge for 2011's Costa Novel of the Year Award. 
Current publication: 
RUNNING LIKE A GIRL - HUTCHINSON - 2013
Until five years ago, Alex was not a Runner.  Or in any sense Sporty. She was an ordinary, curvy woman, who had let sport drop after school, and considered the world of running to be beyond her.  But in 2012 Alex will, at Nike's invitation, take part in the Women's Marathon in San Francisco – her fourth full marathon.
More importantly, she would say, she's made running part of her life, and gets to reap the rewards: not just the obvious things, like a touch of weight loss, health and glowing skin, but self-belief, and immeasurable daily pleasure. She's discovered a new closeness to her father – a marathon-runner of many years' standing – and her brother, with whom she ran her first marathon, as well as a new side to herself, and has become intrigued by the little-known but rich feminist history to running.
Along the way, Alex has had to handle the logistics of learning to run: the intimidating questions of a 22 year-old sales assistant while buying trainers, where to get decent bra for the larger bust, and how to apply Vaseline to make the wearing of both comfortable. She's worked out how not to freeze, how not to get sunstroke, and what (and when) to eat before a run. She's worked out what's important (pockets) and what isn't (appearance) about what you wear. She's conquered the logistics of how to run a race, and how to use a heart rate monitor. She's run the gamut of uncontrollable emotion that a long-distance race can bring, and she's experienced the zen moment of distance covered, problems solved, that is the grail of every regular runner.
As Alex says, there are running books about going the furthest, going the fastest and doing it all in the least amount of footwear. These are books that are almost always by, and about, men. And there are running books that calmly and clearly talk you through how to get anywhere from 5k to 26.2 miles. But there is little to encourage the woman who, after a few too many years of white wine for supper and a sneaky fag on a Friday night, has a tiny, whispering voice in her head suggesting that she might like to give it a go. Part memoir, part 'how to', RUNNING LIKE A GIRL is a thoughtful, kind and practical exhortation to 'ordinary women' to lace up their trainers, and see what they are capable of. 
Praise for RUNNING LIKE A GIRL:
"Heminsley humorously tackles the many thorny issues new runners encounter, from chafing to proper sports-bra fit to injury recovery to restroom emergencies... an amusing and inspiring account." Booklist
"What's truly excellent about this book is its generosity...  likable, readable and enlightening. Also inspiring if, like me, you've only just discovered the seven fathoms of joy that result from galumphing around the park in your new-rave trainers. What this book does is persuade even the most unconfident of non-joggers that they just might be born to run. Come ON!" Miranda Sawyer, Observer
"this is not simply a book about running - it's about discipline, self-knowledge, emotions and relationships and should inspire even the most committed couch potato to strap on their trainers and discover a new world." Daily Mail 
"Running gets a coolover courtesy of marathon aficionado and girl about town Heminsley. If even the word marathon brings you out in a cold sweat, then this brilliantly titled book is the perfect antidote to running reluctance... an honest and uplifting account, pitching practical know-how... along with insights into the personal doubts and daunts of her own life. There's nothing preachy or smug about her stance. Instead, it's an inspiring reminder of what we're all capable of if we put our minds to it." Marie Claire
"[Heminsley] describes her first shy forays into running, writes about the difficulty of getting the right kit, the exhaustion and the leaden legs, and then the gradual gains in confidence and fitness, and the realisation that to be a runner all you have to do is run. Running defines her, connects her to her family and friends, and to the world. If you already run you'll nod in recognition; and if you don't, perhaps this will convert you to the stern pleasures that this uniquely accessible sport has to offer." Independent on Sunday
"In Running Like a Girl, Alexandra Heminsley has the courage to abandon her comfort zone and try something truly daunting and intimidating, running a marathon. In doing so she proves to herself that she is better than she thought she was and is capable of going further than she ever thought she ever could. These are invaluable life lessons that transcend running itself. You will enjoy this book—and learn and laugh in the processes--whether you run great distances, modest distances, or not at all." Dean Karnazes, runner and New York Times bestselling author 
"This book is an emotional whirlwind split into two perfect halves. First is the story of Heminsley's own running journey... The second half offers the most practical advice... invaluable, as once you finish this book, even the most unenthusiastic of sportswomen will be longing to pull on the Lycra and run for the hills." Psychologies
"This story is not just about running but realising that you can do more than you ever thought possible. A funny, honest, and inspirational account of learning to run and discovering a new life." Lancashire Evening Post
"A meditation (slash romp) on running, life and love. Penned in her own inimitable style, the book is a tread through the raft of body insecurities and mental anguish we all go through when we put on our trainers." Grazia
"I'm no runner, but I loved Alexandra Heminsley's Running Like a Girl, her vastly entertaining account of her journey to marathon success and beyond." Woman & Home
"This entertaining read is packed with practical advice for the novice runner, including invaluable information on bras and bunions." i
"A funny, endearing story of [Alexandra Heminsley's] journey from the first wobbly steps to marathons of self-belief." Sainsbury's Magazine
"The winning combination of running and encouragement is so motivational you might just dust off the trainers and run towards a whole new you." Daily Record
Non-Fiction
| Publication Details | Notes |
| --- | --- |
| | At last: a self-help book that doesn't claim to have all the answers. This funny and touching guide to getting dumped and living to tell the tale starts with 'we need to talk' and ends in New York, via the science of heartbreak, Scottish dancing and motorbike pyramids. It won't make it all better; but it will convince you that you're not alone. The Pizza of Rejection we've all done; being consoled in Latin by Larry Hagman, some of us haven't. |